I knew yesterday was going to be a bad day (well, let's say "an off day." Katrina is kind of making me reevaluate my concept of a "bad" day) when I woke up and my hair was completely flat. And I have curly hair, y'all. It was still curly, just... flat. Like it'd been pressed inside a book. Which was particularly annoying, since I had washed it and put in extra frizz-ease stuff the day before so that I wouldn't have to wash it yesterday, because I was going to be spending much of the afternoon at the library, and I didn't want to have to get up extra early and sit around waiting on my hair to dry, because I am a lazy cuss. See, it's at a length now where I'm starting to understand where that whole "I can't, I have to wash my hair" excuse came from. It's not as long as it was when I was in high school, for sure, but it's long enough to get supah-tangled and necessitate 45-minute showers with half a bottle of conditioner every two days. And then you don't want to immediately hit the hair dryer because your hair turns out all frizzofluff, you have to let it air-dry a while to get the curl to settle down, and how did this entire entry turn into the saga of my fucking hair? I do not know, people. I do not know.

So. Off day. I have a new purse. Black, genuine leather, $26, Target (insert hurricane guilt here. We're all probably going to have it for at least a month, so settle in and enjoy it, y'all). It's the first "grown-up purse" I've really ever had, although this does not mean that I am above toting my lavender straw clutch around. Point is, my previous purse was basically a stack of pockets and was annoying as fuck because I could never find anything. So I decide to get a shoulder bag, not very big, that you basically just zip open and stick your hand in. Also, my wallet actually fits in it, and nothing is sadder than a wallet that sticks a good two inches out of your purse. (Well, not nothing. Reminds me of a joke I heard: "What's worse than a worm in your apple?" "The Holocaust.")

Anyhoo, I'm feeling all sassy and capable with my new purse and I go to the library to get this forty-page article on tattooing and cannibalism and "Losing Face in Typee," and first of all, I proceed to make an idiot of myself at the reference desk by asking where the reserve desk is, and the guy says, very kindly, "The circulation desk is also the reserve desk." (Look, the school's online journal databases are so good that I rarely actually have to go to the library itself.) And then I go to the circulation desk and ask the guy there about the article, and he asks for the call number, so I give him my class's call number. And he's like, "No, the call number of THE BOOK." So I flee to one of the catalog computers and go look it up. But that's okay, because I've got the Purse of Sassy Capability! It's got change for the copy machine! It's got my student ID/copy card! It's got a notepad to write the call number down on! It's... nowhere in sight. I have literally had the purse out of the house for the first twenty minutes of its existence and I have lost it already.

I march back to the reservulation desk, give the circuvation guy the evil eye, and snatch my purse back off the counter.

And it just went on from there. I spent the day being so hapless that by the time I got home, I spent about an hour reading email and then I just crawled into bed. I didn't even have dinner until about 8:30. I don't know why I was so exhausted, except that maybe it's allergies. Everyone in my house is going around sneezing--me, my mother, the cat, all three dogs. And, I mean, Sam does sneeze to get attention sometimes. Like the time he saw me making a PB&J sandwich, and he knows that he gets pills in peanut butter when he's sick, so he starts coughing at me. I am not making this up. When he wants to go outside or play with you, if you don't immediately cooperate, he starts sneezing at you ("PSHT! PSHT! PSHHHT!"). This was not the sneeze of attentionwhoring. For one, he was out in the hall by himself and not dancing around on my face. Number two, he was sneezing so hard that I was afraid I was going to go out there and find a little explosion of pommy white fur ("PSHHHHHHHHHHFFFFFFFFFFFFFFFWWWWWWT!"). And then he came back into the room and started rubbing his eyes with his little paws, so I took him downstairs to get his medicine. Mom's sacked out on the couch with an herbal pillow on her face and the cat is on her back with one paw on her forehead ("What a world, what a worrrrrrld!"), and the entire household is basically sniffly and useless.

So I'm here now, dividing my time between sleeping, waking up after realizing I can't breathe, pretending to go through boxes of papers and magazines, and waiting for fucking Venus in Boston to come in. Please keep in mind that my vitriol is not actually directed at the book, which is a lovely piece of 19th-century sensation lit that I am extremely looking forward to. (The professor asked if we thought Typee, an early Melville effort, was great literature. Then he sort of quipped that none of us, most likely, would think that Venus in Boston is great literature. No, but if it's anything like George Lippard's Quaker City, it will be awesome literature, let me tell you what.) I ordered it from Amazon like two weeks ago, and they claim to have shipped it, and it is still! not! here! And I have to have the first part read by Monday afternoon ARGH.

(Okay, I just checked, and it's supposed to arrive on MONDAY, SEPTEMBER 12, YOU BASTARDS.)

And then there's the Katrina linkage project. It seems that friends are actually getting worried about me now, which is funny because most of the work is over now--between the links everyone's sending and that I'm seeing on all the sites and boards I visit anyway, it's mostly just pasting them into Semagic on WYSIWYG format and organizing them a little. So it's basically me bumming around with class reading and dog-feeding (fie on you, strict new diabetic feeding schedules!) and pretending to clean and listening to way too much Jewel ("My hands ARE my own!").

I keep showing y'all these because I'm terrified I'm going to design something crap and someone's going to point out a way to make it better only AFTER a dozen people have bought the crap version.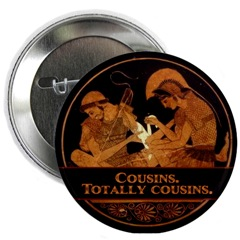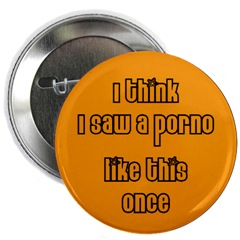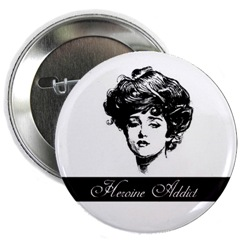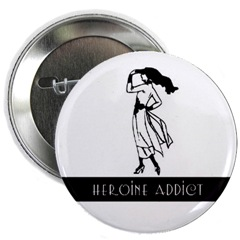 (There are at least a dozen Heroine Addict designs, because... I'm cruel, apparently. Charity, people! Charity!)