I know I haven't been so great with the linkspam entries lately, between the Real Life entries and the Cloverfield entries, so I'm going to try to put a little something up now. I'm leaving for midnight Harry Potter at about 11 pm, so I won't be here for a while (significant, because most of my internet usage is at night these days). Exciting!

I'm also gonna go out on a limb here and say that my desktop pwns yours: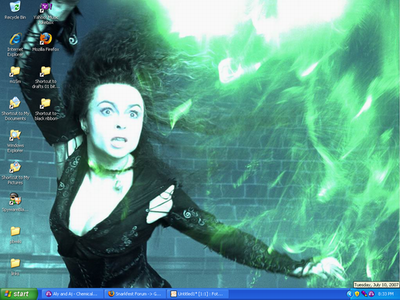 God, I hope we get good trailers.


Obama's Alabama stops pull more than $100,000.

China executes ex-food and drug chief.

Antidepressants most prescribed U.S. drugs.

Egypt pissed off about new Seven Wonders of the World contest. ("Voters chose the Great Wall of China; India's Taj Mahal; the centuries-old pink ruins of Petra in Jordan; the Colosseum in Rome; the statue of Christ overlooking Rio de Janeiro; the Incan ruins of Machu Picchu in Peru; and the ancient Mayan city of Chichen Itza in Mexico. Short-listed sites that missed the final cut included the Acropolis in Athens; Paris' Eiffel Tower; the Easter Island statues; Britain's Stonehenge; Cambodia's Angkor Wat temples; New York's Statue of Liberty; and the Alhambra in Spain.")

Miss N.J. receives second blackmail package.

Potential juror says he's a liar, or, why you don't want to try to get out of jury duty by making up a bunch of biases.

BPAL raises several thousand dollars for Neil Gaiman and the CBLDF.

Many Dead Things has a fantastic "vampire anatomical biological research case" for sale--but eBay won't host it. "it seems i am doomed. I spent a month of my life putting this new project together, and thanks to my slightly anti christian background story for the box on ebay, i somehow violated their policy and got kicked off. So i have probably my best project with no home to go to. If you would like to buy this project, make me an offer." Hell, if I had the money I'd buy it, so if you like the gothic and the weird, head on over there and see if it's up your alley. See also: his previous project, a lycanthropy case.

It was a ginormous year for new words.

Welcome To The Internet: The Truth About Perez Hilton's Traffic.

A puppy with a HEART in his FUR.

Polar bear keeper 'burned out.' NOOOOO THINK OF KNUUUUT!

Thx Jim. And now, da sportz.

I shall call him... Mini Me.

How To Turn A Newspaper Into A Weapon.

Why Can't We Be Friends: The Discomforts Of Friending on Facebook.

Goodbye To All Pratt: 'Jane' Magazine Folds; Unhappy Endings: The Last Frantic Moments Of 'Jane.'

Rowling Kept Potter Film Straight; Potter fans to Rowling: Save Harry; The moment Hermione sees Harry in an all new, leather-clad light.

Full Comic-Con Schedule Online. Keep an eye out for Cloverfield/1-18-08, because things will apparently be dropped for people to pick up. Speaking of which, Mystifying trailer transforms marketing.

More Keira Knightly for Chanel, seen with director Joe Wright (Pride and Prejudice, Atonement), who seems to have taken Keira for his Chanel-and-otherwise muse the way Baz Luhrmann did Nicole Kidman.

Fred Claus : Vince Vaughn, Paul Giamatti, Kevin Spacey, and "Ludacris. As an angry elf."

Simpsons' Springfield Named.

Spidey 4 Update.

Historians Already Sizing Up 'The Golden Age.' Oh, please. Like any of us are there for the accuracy.

Ready to Go Back to 10,000 B.C. ? No. (What? You asked!)

Two viral marketing Watchmen sites? Crudup Up For Watchmen ?

Two-Face AND Riddler in Dark Knight ?

Nimoy, but not Shatner, in next Trek Movie; Shatner pissed.

Wahlberg Ready To Rumble For Aronofsky's 'Fighter.'

Beyoncé to Star in Aida Adaptation?


trailer_spot: Spiderwick Chronicles, In the Valley of Elah, Get Smart, Fred Claus, 1-18-08; Gone Baby Gone, Walker, Hallam Foe, No End in Sight, Pirates Who Don't Do Anything.

XXX Tributes: 'Black Snake Moan' Remake Improves Upon Original With Addition Of Actual Boning.