Not much to report today, except that I did get some interesting plot hinks hashed out on Black Ribbon. I also decided that a scene I really liked in the original three chapters is going to have to go (kill your darlings and all that), because it just doesn't make sense anymore in terms of who's supposed to know what when, and I need to stop working myself into pretzels trying to figure out how to make it work. Sadly, it just doesn't anymore.

Linkspam!

Phelps amazes world with Beijing eight.

Thousands pay respects to comedy king Bernie Mac.

Ellen DeGeneres and Portia de Rossi: Wedding Day Bliss.

Dog cloner Joyce McKinney sought over burglary to fund horse's wooden leg. "Remember the story about the pit bull cloner who is suspected by many of being the same woman who kidnapped a Mormon missionary 30 years ago to be her sex slave?"

The Fear of Fear Itself (and Other Esoteric Phobias).

An Environmental Argument for Boxed Wine.

From
perrie: Scottish Penguin is knighted by the King of Norway.

Cops, Panda Hipsters Battle in Williamsburg Streets.

From
foresthouse: The Pratchgan, it is awesome!

The Worst Prose in the World Is Rewarded.

Steampunk Goes to the Hamptons.

DIY cat builds a BFF.

'CSI' gets its man: Laurence Fishburne joins cast.

20 worst cover songs ever.

Feature: Odd ends stolen out of holy writ: 18 Unusual Shakespeare adaptations.

'Times' Shock: Everyone Still Getting Their News From 'The Daily Show.' Stay with it until the last line of the article.

Jemaine Clement gets hitched! Nobody tell my sister. She will go into mourning. She named her car "Jemaine." I am not even kidding you. (Previous car's name: "Mookie." No, I don't know either.)

When Are Vampire Stories Science Fiction? Once again, as the lolcats say, this is Relevant to My Interests.

Criterion Collection's First Blu-ray Release Dates Announced; 'Bottle Rocket' DVD Finally Coming To Criterion In November.

Images: Warner Bros. Fall/Holiday 2008 Movie Preview; So many, many pictures of costumes from 'The Duchess.' I have to say, I think the "drunken" dress (as named by the costume designer) is, so far, my favorite. This may be because bitchface is the perfect accessory, I don't know.

Trailers and clips: 'Benjamin Button' Extended TV Spot; 'Righteous Kill' R-Rated Trailer: Pacino and De Niro Do Whatever They Want; 'RocknRolla': Guy (Ritchie) talk; 'The Spirit': Frank Miller time; Red-Band Trailers for 'Death Race', 'Righteous Kill', 'Sex Drive'; 'Outlander' Watch: A Clip; Nia Vardalos Goes Greek Again with 'My Life in Ruins' Trailer; Gary Oldman ITV football promo.

'Tropic Thunder' Rains on 'The Dark Knight' Box-Office Dominance; Blockbuster Reality Check: 'Dark Knight' Only $1 Billion Off Record Pace; Warner Bros. Talks DC Comics, 'Justice League' and The Next Batman Movie; Dark Knight Inspires Copycat Crimes, Over-reactions; Why Does Everyone Love 'The Dark Knight'?

WB's Motion to Dismiss 'Watchmen' Lawsuit Denied; Could 'Watchmen' be Delayed Due To Legal Trouble?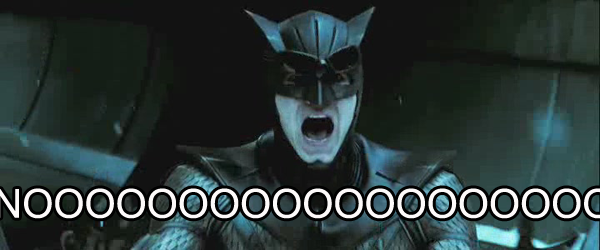 New 'Watchmen' footage!; Who Wants To Watch Three Hours Of 'Watchmen'? I DO, I DO!

Decision to Move HBP Made within Past Seven Days; 'Harry Potter': On the 'Half-Blood' set; Rupert Grint is scared to kiss Emma Watson; Scholastic.com Interview with Tom Felton on Draco, his Music on a You Tube channel and More; 'Harry Potter' Star Faces Terrifying New Enemy: Shoelaces.

'Harry Potter' And 'Twilight' Bands Pave Road For Future Movie-Inspired Rockers. (Man, I love a good segue.) Stephenie Meyer describes the "Breaking Down" parody she wrote ("Bella's brief marriage to Mike that ended when he ran off with Eric Yorkie, that was [lots of audience screaming]"); Maureen Johnson answers your Breaking Dawn questions ("Mostly, vampires hang around the house, spending almost all their time online, leaving incredibly tedious and needlessly complicated comments to discussion boards and updating their blogs. All vampires have blogs. You have never read one because they are so boring, no one ever links to them. They also run Wikipedia"); Twilight sinks its teeth into feminism; Pardon me, but your fangs are in my book; Stephenie Meyer's brother/webmaster rumbles with angry petitioners. What I don't get is what these petitioners hoped to accomplish, or what reaction they were hoping for. "Wow, you've shown me the error of my ways, I wish I hadn't written the book at all now"? A pat on the back? A cookie? Just because you can express your opinion (and just because a savvy writer could benefit from it) doesn't mean that the writer has to enjoy it, you know? I mean, I think Meyer's brother's response should have been more along the lines of a polite "Thank you! Come again!" rather than fussing back. But, again, I don't get what the petitioners expected or hoped to accomplish.

Bale & Depp's "Public Enemies" trailer by Christmas. WOOOOOOOO!

As If John Connor Isn't Sad Enough, McG Makes T4 Cast Read 'The Road.'

X-Files 3 Direct To DVD... Because No One Believed; UPDATE: 'X-Files 3' Going Straight to DVD? No.

Keanu Reeves to Star In 'Cowboy Bebop,' fans riot in streets.

Robert Downey Jr.'s Bad-Ass Sherlock Holmes; Mark Strong to play Holmes villain. Heyyyyy! It's Septimus! (If you haven't seen Stardust yet, go Netflix it or something. It's worth it for Strong's big zombie swordfight at the end, if nothing else.)

Simon Pegg Drops 'Bastards', Reunites with Nick Frost for 'Paul.'

Coraline stop-motion dolls!

Darth Vader — Sith lord, dirty old man?; an icon that made me laugh out loud (scroll down to the comment).

'Inkheart' Fulfills Guillory's Dream. You know, I haven't seen Sienna Guillory in much, but I really kind of like her. And the Inkheart trailer looked really, really good--maybe because Andy Serkis walked in and stole it out from under everyone.

Hou Hsiao-hsien's Action Movie Moves Forward.

The Story of Vegas' Moulin Rouge, "the first desegregated hotel and casino in Las Vegas."

Daley and Goldstein Rewriting 'The Most Powerful Magician on the Planet Earth.'

Writers Close In On 'Goosebumps.'

Backtrack! 'Punisher: War Zone' Still Has Its R Rating. I stand by my recommendation that we go in and rescue Ray Stevenson from this clusterfuck, however.

Psychic Movie 'Pushes' Into Comic Books.

Fame's Gonna Live Forever.

Jeffrey Dean Morgan Dying For Role In 'Shanghai.'

Paul Greengrass Will Not Take On 'The Trial of The Chicago 7.'

'Vicky Cristina Barcelona' Interviews -- Pénelope Cruz, Scarlett Johansson, Rebeccca Hall and More.

Stars in Rewind: Eva Mendes as Scarlett Johansson's Nanny?

Disaster Movie Sacrifices Bad Comedy For Worse Cleavage. In which the only disaster movie pictured is the movie itself. So meta!