Okay, I'm putting this above the cut, because it is one of the greatest things I have ever seen in my entire life, and given some of the things I have linkspammed, that is saying A LOT. Ladies and gentlemen, I bring you: THE BEST FANDOM SECRETS POST EVER. Turn off the internet, y'all. It's time to go home.

Meanwhile, we have more icons, for both "Growing Up Cullen" and the Midnight Sun recap, from
incognito323.

(OKAY FIREFOX CAN STOP CRASHING ANY MOMENT NOW.)

Oh, re: JaHurricane: the J storm this year is Josephine, which makes me think of this Josephine. And the hurricane before Josephine? Ike. Looks like someone over at the World Meteorological Organization is a Lemony Snicket fan.

Linkspam!

Don LaFontaine, Voice of 5,000 Trailers, Dead at 68; A Trailer to Remember LaFontaine By.

Google to Release a Web Browser. Well, y'all call me when it's on version 2.3.56 or something and the kinks are worked out.

Save The Birthplace Of Superman [The Siegel And Shuster Society].

'Horse Whisperer' Author In Hospital After Mushroom Poisoning.

Which fictional characters do you wish were real? Hmm... I'll have to think about that and get back to you. The funny thing is, though, I immediately start thinking in terms of which characters I'd like to be friends with, not which Hawt Literary Guyz I'd like to nail or anything. Like, I think you could have a pretty fun girls' night in with Anne Shirley, Violet Baudelaire, Jo March and Lyra Belacqua. Maybe Susan Pevensie could do our hair.

I was told to seal this opening so here I am.

Listen to Dido's new single; Gossip Girl soundtrack.

First Look at 'Dead Set,' the Ultra-Dark Zombie Satire of Reality TV.

What the frak? Faux curse sweeps geek nation; New 'Battlestar Galactica' Pushed Back To April?

The Future For Dr. Horrible Looks Moist.

'Flight of the Conchords': 2nd Season will be final season.

Paquin Campaigned For 'True Blood.'

Cambridge University wants to be on soaps, shed elitist image.

Colin Farrell: Hero of the Homeless.

Fox News Blames Internet, Los Angeles for David Duchovny's Sex Addiction.

Scoop: Anonymous attempt to 'save Katie.' "When Katie Holmes' Broadway show 'All My Sons' opens Oct. 16, ticket holders won't be the only ones in attendance. The anti-Scientology group Anonymous will be on hand for Holmes' Broadway debut as well." I can just see Patrick Wilson peeking out the stage door now: "KATIE, THE INTERNET WANTS TO TALK TO YOU."

Fantastic Fest Announces Great Late Slate for 2008.

Images: Blindness; The Family That Preys; Mirrors; Milk; From the Set of 'Prince of Persia': The Set of 'Prince of Persia.'

Trailers and clips: Trailer and One-Sheet for 'Passengers' (Must Watch: Anne Hathaway's 'Passengers' Trailer); International 'Max Payne' Trailer Hits; Exclusive Clip: Jennifer Aniston's 'Management.'

'Dark Knight' swings past $500 million mark; What The Dark Knight's $500 Million Means; Johnny Depp Not The Riddler... Yet; Riddle Me This: Guy Pearce Is Down For Visiting Chris Nolan's Gotham; How the Dark Knight Got a Makeover; KERMIT BALE. This would be the most awesome thing I'd seen today if it weren't for Who Watches Fandom Secrets, seriously.

It's Twilight Tuesday! Catherine Hardwicke Gets Swept Up By Bella And Edward's 'Obsessive Love,' in which we are promised 1) Edward acting unchivalrously and 2) tongue; 'Twilight' film to feature Rob Pattinson's music; Stephenie Meyer's 'Midnight Sun' postponed indefinitely; Internet Leakers Ruin Vampire Book for Everyone.

(My mother's home sick today, and I came down to check on her and found her watching Jumper. It was about 45 minutes from the end, so I ended up getting sucked into Jamie Bell the fight scenes [y'all, I'm not surprised Samuel L. Jackson still has a hate-on for Hayden Christiansen], and then all of a sudden at the end Christiansen [SPOILER, if you care] goes to see his long-lost mom [my mother swears she only appeared for all of twenty seconds earlier], and she is DIANE LANE, WHAT?, and apparently her daughter [the sister Christiansen never knew?] inherited her Big Name Cameosity, because the daughter opens the door and is like, "Ew, DARTH VADER, what do you WANT?" and Hayden Christiansen's like, "BELLA SWAN? WHERE'S MY MOM?!")

Wizarding World of Harry Potter Theme Park Construction Photos; Larger Remus and Ron promos; New Scans from 2009 HBP Calendar Include Attack on Burrow; UK HBP calendar scans; Hi-res French calendar photos; New pic of Harry, Ron, and Ginny!; New Behind-the-Scenes Image from Burrow Appears Online; Daniel Radcliffe: Equus Rehearsals Under Way!; Want some more Harry Potter movie script?

Watchmen Legal Fight Hots Up (wait, is that an actual verb?); 'Watchmen' at Risk of Being Delayed Until June?!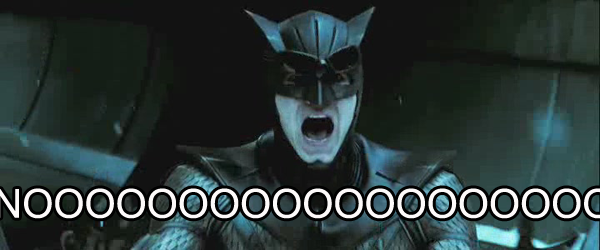 Fresh Assortment of New 'Quantum of Solace' Photos; hi-res at OutNow; 'Quantum of Solace': 007 preview (Entertainment Weekly); Total Film Also Bonding With 'Quantum of Solace.'

J.J. Abrams And 'Star Trek' Writers Reveal Film Has 'All The Gadgets You Could Want.'

Mark Millar on Wanted 2 ... and 3; New Superman Trilogy Planned by Mark Millar.

Downey Jr.'s Holmes Is Fighting Fit; Russell Crowe to Star Opposite Downey as Dr. Watson?; Russell Crowe Won't Be Dr. Watson.

Oscar winner draws film with crayons.

Hayao Miyazaki Talks Hand-Drawn Animation at Venice.

Pedro Almodovar and Penelope Cruz Working Together Again.

'Choke' Director Clears Up Radiohead Confusion; Are More Chuck Palahniuk Novels Headed for the Big Screen?

Philip K. Dick Teams Up With Alanis Morissette To Save The World.

Alex Proyas Predicts The Future In 'Knowing,' But How'd He Do It?

Kruger, Waltz & Rust Joining Inglorious Bastards; Schweiger Also Boards Tarantino's 'Bastards.' Oh, thank God. Now I have something to say on Til Schweiger's footnote for "King Arthur in Fifteen Minutes."

Kevin Eastman Talks Live-Action TMNT.

Will 'Descent 2' Out-Scare The Original?

Vadim Perelman Directing Poltergeist Remake?

'Disaster Movie': The 'Dark Knight' of Bad Movies. Somebody get me some aloe, I think that was an EPIC BURN.