Linkspam:

Remembering Natasha Richardson, 1963-2009; Natasha Richardson, 45, Stage and Film Star, Dies (New York Times); Natasha Richardson: A critical appreciation; Richardson Died of 'Blunt Impact,' Medical Examiner Says; U.S. Release Plans Uncertain for Natasha Richardson Film, 'Wild Child'; Natasha Richardson: 17 key roles; Lindsay Lohan and Alan Cumming Comment on Natasha Richardson's Death; Rivers recalls Richardson as 'amazing and darling'; Natasha Richardson: Stars and friends remember her. Among the many:

Ralph Fiennes (Richardson's costar in Maid in Manhattan and The White Countess)
"For everyone who knew and loved her, Natasha's death is a terrible, devastating loss. She was a star. A great actress, a beautiful woman, a fiercely loyal friend, a brilliant and generous companion. She was an adoring and loving wife and mother. She was unique. My thoughts and prayers go out to Liam and her beautiful sons, Micheál and Danny and to all her family. I cannot imagine a world without her wit, her love, her mischief, her great, great talent and her gift for living. I loved her very much. She was a supreme friend. I shall miss her deeply."

Helen Mirren (Richardson's costar in The Comfort of Strangers)
"Natasha was a great actress, a fantastic mother, a loving wife and a whirlwind of energy, with an infectious love of life expressed firstly by her wonderful deep laugh. Anyone who knew her will be in mourning today. I hope that Liam and her sons are helped in their pain by the great love and sympathy that is coming to them from people all over the world."

Meryl Streep (Richardson's costar in Evening)
"Tash was the warm sun in the center of a large constellation of family, friends, all of those lucky enough to know her. She is irreplaceable in our lives; she gave us so much, so generously. Her legacy is the love that connects us all."

I think we all need a laughing puppy now.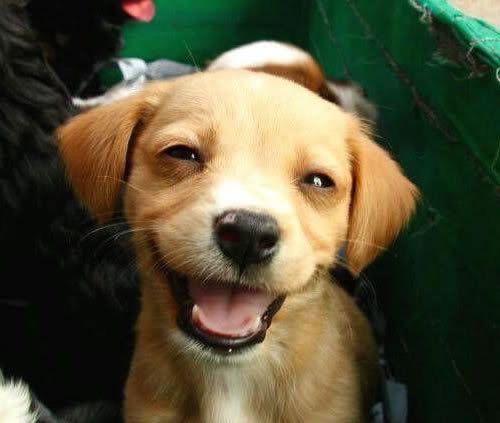 Via Fandom Lounge: "Con_Or_Bust, the fandom auction supporting fight_derailing's Wiscon Assistance Program benefitting fans of color is now open, should folks wish to bid on things or put things up for bid."

Hugo and John W. Campbell Awards nominees announced.

The Facebook Faithful Turn Against Mark Zuckerberg's Redesign.

Giant Worm Not Actually Making Spice in Cornwall [Monsters Among Us].

Stephen Colbert Admits He Has 'Twatted' [Video]. By the way, Twitter can stop eating posts any moment now, thnx.

(Can someone confirm if this is Christopher Walken's real Twitter account?)

Care Bears on Fire: Great name, good video.

Watch This: South Park Spoofs Comic Book Movies.

Images: New Picture from Pixar's 'Up' Announcing Its Debut at Cannes; Oh Yes, Another Badass Poster for 'Terminator Salvation'!; More new '17 Again' stills to ogle; James Franco Still Howling Away; Drew Barrymore: New 'Grey Gardens' Poster; 'Crank 2' Poster Debuts on Twitter (eh?).

Trailers and clips: Must Watch: Great Trailer for Harold Ramis' 'Year One'!; 'Iron Man: Armored Adventures' Clips Debut, Offer Sneak-Peeks At Upcoming Nicktoon; 'Sit Down, Shut Up' Promo: Bateman v. Arnett; 'Sorority Row' Trailer Looks a Lot Like 'I Know What You Did Last Summer.'

Insanely Epic New 'X-Men Origins: Wolverine' TV Spot!; Four New 'X-Men Origins: Wolverine' Promo Images Go Online: Blob, Wraith, Logan & Sabretooth.

Johnny Depp's 'Dark Shadows' Adaptation 'Very Active'…With Tim Burton Directing?; Tim Burton May Push Back 'Dark Shadows' Start Date.

John Hurt Talks More on Return as Mr. Ollivander for Harry Potter and the Deathly Hallows.

EXCLUSIVE: 'Thor' Director Kenneth Branagh 'Thinking Ahead' To 'Iron Man 2' & Other Marvel Movies.

As 'Watchmen' Winds Down, 'Watchmensch' Hits Shelves.

Edi Gathegi, Nikki Reed Talk Deleted Scenes On 'Twilight' DVD; Midnight DVD Cast Appearances ("Stars and filmmakers [will make] surprise appearances at one store each in New York, Los Angeles, Chicago, Dallas and Salt Lake City." But they won't tell you which store! So you'll all just have to go and buy your DVD at midnight in an agony of hope, allowing Summit to make headlines, rather than waiting to pick it up whenever you happen to run errands this week! Their plan, it is FIENDISHLY CLEVER); 'Twilight' on DVD: the EW review. Speaking of the DVD, I have decided to go with the 3-disc Target set, which is less expensive than the one at Borders and yet seems to have better features. Even though the Borders set does have "photo cards" printed on "pearlescent" paper (I mean, how could you turn those down? And for only ten dollars more! Truly, I am bereft). Meanwhile, Wolf Pack Cast in New Moon; My Chemical Romance Explain Why They're Not Into 'Twilight'; PIXEL EDWARD IS DARLING AND SPARKLY.

Nicolas Cage's 'Knowing' might leave you wondering. Well, I'm gonna see it anyway, SO THERE. (How did I get sucked into this movie? I don't even like Nicolas Cage!)

'I Love You, Man' is one bromantic joy ride.

'The Great Buck Howard' won't make you very, very sleepy.

'Sin Nombre' is an epic look at the immigrant experience.

SXSW Review: The Horseman; SXSW Review: 'The Slammin' Salmon.'

More Hi-Res Images from Lesbian Vampire Killers; Lesbian Vampire Killers Review ("How any film with the words 'Lesbian' and 'Vampire' in the title can be so unentertaining, so unsexy and so damned unfunny is almost beyond us").

50 Cent Replaces Forest Whitaker in 'The Expendables'?! That's, uh... something of a severe downgrade there.

Brad Pitt To Play More Spy Games With 'The Night Manager.'

Ben Affleck, Kevin Costner & Tommy Lee Jones Are 'Company Men.'

Will Trek's Chris Pine put on Green Lantern's ring?

Alexandra Daddario Joining 'Percy Jackson.'

'The Box' Moves Up from Thanksgiving to Halloween.

Is Tom Cruise prepping a fourth Mission: Impossible film? I'd say something bitchy here, except that I really, really liked the third one.

Universal and Imagine Making 'Merman'; 'Merman' romcom destined to go swimmingly.

Adrienne Shelly's 'Morgan Stories' Coming.

Script Review for 'The Greatest Muppet Movie of All Time.'

David "X-Files" Nutter Directs A Super-Cyborg Movie [Freemind]



'I Love You, Phillip Morris' forced to go straight to DVD in US? "The film, which is very funny and surprisingly touching, does feature explicit gay sex. Really, really explicit gay sex. Involving Jim Carrey. [Go read this part for yourself.] Yeah, that explicit."

Full S. Darko DVD Details.

'Meet the Fockers' sequel will include 'children...conflict,' screenwriter says.

A First Look At The Carnage That Ensues When Zombie Virus Babies Attack.

New 'Dragonball Evolution' Character Clips: Goku, Piccolo, Bulma, Roshi & Chi Chi.